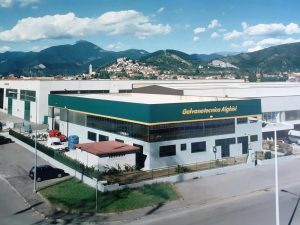 Since 1978 Galvanotecnica Alghisi S.r.l. has gained wide experience in providing customers with galvanic treatments using the barrel plating electroplating method.
Handed down through Alghisi's family for generations, our company is currently a leader in the galvanic sector. Since 1999 we have specialized in silver plating, brass plating, copper plating and burnishing, improving our know-how over the years.
Our galvanic treatments and work process
All of our galvanic treatments can be carried out on different materials such as zama, copper, tin, iron and brass, and are intended for many different sectors, ranging from the fashion industry (buckles, buttons, studs, belts, bags, leather goods and footwear) to technical items, furnishing accessories and gadgets, such as key rings, pins, etc.
At present, the company has a structure of more than 2000 square meters divided into three departments, in which three independent galvanic plants are fully operational, with machinery apt for the treatment of metal parts up to 0.7 mm in diameter. The galvanic treatment plants are flanked by a further department specialized in the shading, bursting and glittering processes, not to mention our dedicated center for zapon varnishing. Each type of galvanic treatment has its own dedicated centrifuge.
In 2014, the company made further investmets on last generation machinery and software in order to provide its customers with the best value for money.
By relying on a qualified and specialized staff – who has been working with us for over 15 years – our company boasts prompt responses and fast delivery times – estimated on a business day from the receipt of the goods to be treated, regardless of the quantity. These results are possible thanks to the constant collaboration with the leading shipping and courier delivery service companies , nationwide and abroad.